Recognized as a global leader in medical research and patient care, Johns Hopkins University is preparing a new generation of health professionals to become tomorrow's leaders in clinical education.
The Johns Hopkins School of Education's Master of Education in the Health Professions program concentrates the full breadth of John Hopkins expertise to prepare advanced health professionals with culturally sensitive, evidence-based strategies for improving clinical practice across the spectrum of health care.
Our MEHP Fellows frequently go on to clinical education leadership roles in hospitals, medical systems, higher education institutions, and health organizations across the world. Our graduates develop clinical innovations and publish in field-leading journals — often while still in the program — and have integrated their academic work and research into new initiatives within their current practice. Graduates also work as health educators, community health program coordinators, public health specialists, health promotion specialists, or wellness program managers in schools, healthcare organizations, community centers, government agencies, and non-profit organizations.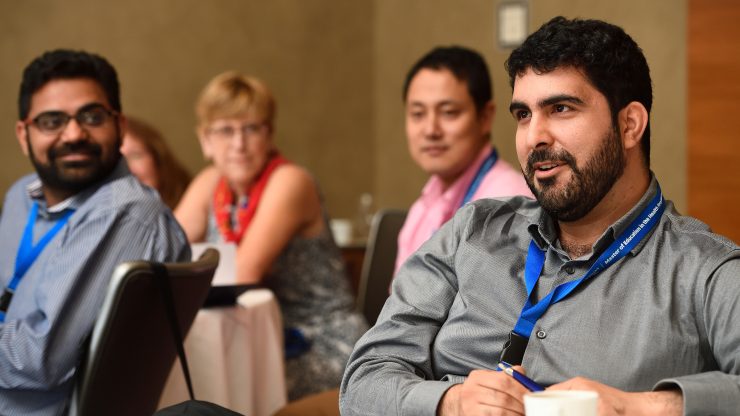 Top five states with the highest employment of health education specialists: California, New York, Texas, Florida, and Georgia.
Top five states with the highest employment of health education specialists: California, New York, Texas, Florida, and Georgia.
Health Professionals Teaching Health Professionals
Designed for already accomplished health professionals who share a passion for educating other health professionals to bring better care to patients everywhere. The MEHP is a rigorous program consisting of an 18-credit foundation in evidence-based teaching, combined with a 15-credit specialization along either research or leadership tracks. The research track navigates the intricacies of effective scientific method, while the leadership track explores the nuances of leading highly effective educational initiatives in healthcare settings. The Post-Master's Certificate is an 18-credit program that can be taken as a stand-alone certification.


Ending Mistreatment of Medical Students
As Associate Vice Chancellor for Education and Vice Dean for Medical Education at the University of California, Irvine, School of Medicine, Khanh-Van "KV" Le-Bucklin, MD, MEHP '19, knows a bit about teaching in health settings. She chose Johns Hopkins School of Education to further her teaching skills. In her MEHP capstone experience, Le-Bucklin developed an innovative 90-minute curriculum, called #MDsToo, that sensitizes medical school faculty and residents to student mistreatment — including sexual harassment and ethnic discrimination.