Application Details
Prerequisites to Apply
Applicants to this master's program must have a earned a four-year bachelor's degree by the time of their matriculation. Earned minimum cumulative grade point average of 3.0 (on a 4.0 scale) in all previous undergraduate and graduate studies (including for incomplete programs of study and for programs still in progress).
Format
This program is delivered in a hybrid cohort format requiring a limited in-person attendance for five days in Washington, D.C., in the Summer term, after which all required courses in the program will be offered online.
Application Requirements and Deadlines
MS in Education Policy
Application Completion Deadline:
April 18, 2024
Admissions Offer Response/Enrollment Deposit Deadline ($250):
Enrollment deposits will be accepted on a rolling basis until the program reaches capacity or the start of classes for the first term.

Application Requirements:

Online application form
$80.00 application fee
Resume/CV

Essay:
To be uploaded to your online application form.

An 800-word essay in which you discuss the reasons you wish to pursue this degree program at Johns Hopkins School of Education, focusing on your long-term goals and how your academic program will complement those goals.
Three Letters of Recommendation:
Applicants are required to submit three recommendations using the online application system.

After entering the contact information for three recommenders on your application, each will receive an email with instructions about logging onto our system. At that time, they will have the opportunity to fill out the Recommendation Form and upload a recommendation letter.

Applicants should request recommendation letters that directly address their candidacy for admission to SOE and the MS in Education Policy program. Ideally, individuals selected to provide letters should include those from both academic and professional settings. For candidates who have not been enrolled post-secondary level courses for many years, it is acceptable to substitute letters from professional contexts.
Official transcripts from all post-secondary institutions attended.
GRE Admissions Test:
The GRE admissions test is not required for admission to this program.
Interview:
No structured interview is required as part of the admissions process.
Tuition and Fees
Tuition and fees are subject to change for ensuing academic years and will be updated on the School of Education website accordingly.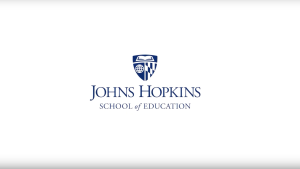 More Information
Phone
Office of Admissions
410-516-9797
Office of Admissions Toll-free
877-548-7631
Jennifer Fordham, Sr. Academic Program Coordinator
443-927-0154
Email
Jennifer Fordham, Sr. Academic Program Coordinator
Location
Johns Hopkins School of Education
2800 N. Charles Street
Baltimore, MD 21218
Hours
Monday to Friday
8:30 a.m. to 5:00 p.m. ET
What to Expect
Goals
The goal of our program is to provide comprehensive, research-based, real-world, and work-environment-ready skills and knowledge for students and professionals interested in the field of K-12 education policy.
Program Requirements
A strong emphasis is placed on the provision of opportunities for students to develop the skills and competencies necessary to be successful in the field of education policy. Students have the opportunity to gain an in-depth understanding of the policy world and its complexities. This includes a weeklong residency during the introductory course in which students are introduced to various professionals in the policy world. This program culminates in a capstone course that offers students real-world work scenarios in which they will apply knowledge and skills gained during the program.
Applicants who have not successfully completed a college-level, introductory statistics course as part of their previous college coursework will be required to enroll in Introduction to Statistics in the first term enrolled.
Applicants who have completed an introductory-level statistics course with an earned grade of B or better in the past five years may petition to substitute another graduate-level course for the Johns HopkinsEd Policy Introduction to Statistics course upon approval from the faculty director.
For applicants who have completed a statistics course more than five years ago or who never completed an introductory-level statistics course, the Johns Hopkins Ed Policy Introduction to Statistics course is required.
Student Outcomes
The primary educational outcomes of the program is to prepare graduates to analyze and evaluate education research, translate research into policies, and contribute effectively to governmental agencies, legislative offices, mayor's offices, think tanks, and nonprofits that focus on education.
Upon successful completion of the program, we expect students to be prepared to:
Analyze and evaluate education research
Analyze the structures that comprise public education in different states within the U.S. and in peer nations around the world
Analyze national and international educational assessment data
Translate research into policy recommendations for different stakeholders (e.g., states, local education bodies, city governments, or nonprofits/think tanks)
Analyze current or proposed federal and state legislation and regulatory language for their potential impact
Analyze existing education budgets and funding streams
Evaluate proposed policies in terms of their potential impact on underserved or marginalized populations
Compose reports, policy memos, op-eds, and policy briefings on educational issues in strong, clear, and empirically based language
International Applicants
This program is delivered in a fully online format and does not offer F-1 or J-1 visa sponsorship for international students. International students interested in applying to a program at the Johns Hopkins School of Education must follow the same application process and submit the same general application materials as their peers, along with some additional requirements. Because of the structure of the Student and Exchange Visitor Information System, which is designed only for traditional full-time residential programs, international students are not eligible to apply for an I-20 and F-1 study visa for the limited-residency Education Policy course offered in Washington, D.C., during Summer term. If you hold a different type of nonimmigrant visa, please email the Johns Hopkins University Office of International Services at [email protected] to verify whether you are eligible to participate in the in-person residency course. Arrangements will be made for international students residing outside the U.S. to participate in this course using a virtual platform.
International Student Admissions
Please visit the International Student Admissions webpage for additional application requirements or information.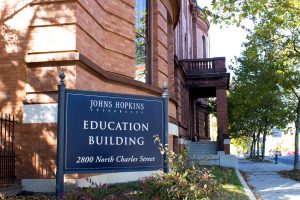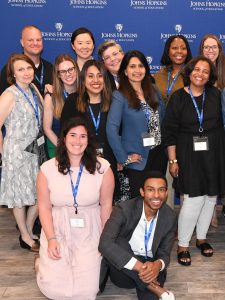 International Student Admissions
Please visit the International Student Admissions webpage for additional application requirements or information.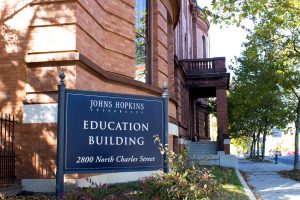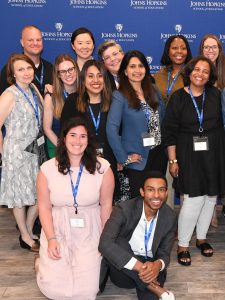 Legal Disclosure
State-Specific Information for Online Students