Today, it is clearer than ever that the challenges facing our schools and communities will require deep, empirically informed change. At the Johns Hopkins School of Education, we are committed to driving that change. As part of America's first research university, we have helped schools, districts, and states improve their educational policies and practices since 1909.
Friends and Colleagues:
We are one of the nation's most trusted knowledge sources on education because we are consistently focused on solutions and driven by evidence: testing, analyzing, and sharing education research, practices, and policies that really work. We prepare leaders for today's diverse educational contexts and create powerful tools to tackle education's defining issues as we address the social determinants of education, support diverse learners, and advance equity and social justice.
On behalf of our community, thank you for your own commitment to that effort — and for your interest in the Johns Hopkins School of Education.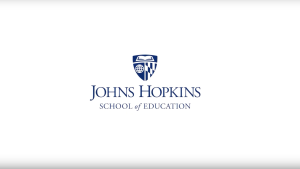 About the Dean
Known as a collaborative and entrepreneurial leader, Christopher Morphew has served as dean of the Johns Hopkins School of Education since 2017. During his tenure as dean, the school has bolstered academics, advanced research, strengthened governance, and extended service to the community—solidifying its role as a global education leader.
Bolstering Academics
Early in his tenure, Dean Morphew presided over the establishment of three core academic departments: Advanced Studies in Education, Counseling and Educational Studies, and Innovative Teaching and Leadership. He has also guided the development of innovative academic programs, including the International Teaching and Global Leadership master's degree cohort, which prepares educators for transformational roles around the world; the Master of Science in Education Policy, in concert with the Johns Hopkins Institute for Education Policy; and the MEd for Teaching Professionals, or TeachingWell, a groundbreaking STEM educator training program focused on whole-teacher support.
Advancing Research
Under Morphew's leadership, sponsored research funding has steadily increased, including significant grants to pilot large-scale programs, such as the National Partnership for Student Success. In response to the pressing national issue of school safety, in 2019 he founded the Center for Safe and Healthy Schools, which develops evidence-based solutions focused on student well-being, safety, and learning success. He has recruited more than two dozen new faculty members to the school, including Bloomberg Distinguished Professor and CSHS executive director Odis Johnson Jr., who also co-directs the university's "Advancing Racial Equity in Health, Housing, and Education" research cluster. Dean Morphew also prioritized the school's participation in launching the eSchool+ Initiative, a national leader in guidance on school safety and equity during the COVID-19 pandemic.
Strengthening Governance
Under Dean Morphew, the School of Education has made consistent improvement in its annual financial and development outcomes. He has taken steps to increase faculty governance at the school and has worked closely with its Faculty Senate to formalize processes for faculty tenure, appointments, evaluation, and workload. Building on community-wide engagement in envisioning the school's future, he led the development of its first Strategic Vision and launched a major redesign and renovation of its home in the historic Education Building. He also created the Office of Diversity and Faculty Development and appointed the school's first chief diversity officer.
Extending Service
Dean Morphew has also championed Baltimore City schools and its students. He brought new leadership to Henderson-Hopkins, the Johns Hopkins partnership elementary-middle school in East Baltimore, recently recognized by U.S. News and World Report as one of the city's best schools, and he has been a staunch advocate of the Vision for Baltimore program, which provides vision services to elementary and middle school students throughout the city. Building on a long tradition of being the largest producer of new teachers for Baltimore City, he has worked with City Schools leadership in developing the TeachingWell program, with the goal of producing new STEM teachers to prepare thousands of Baltimore City math and science students.