The MEHP newsletter highlights news and achievements of Johns Hopkins Master of Education in the Health Professions students and alumni.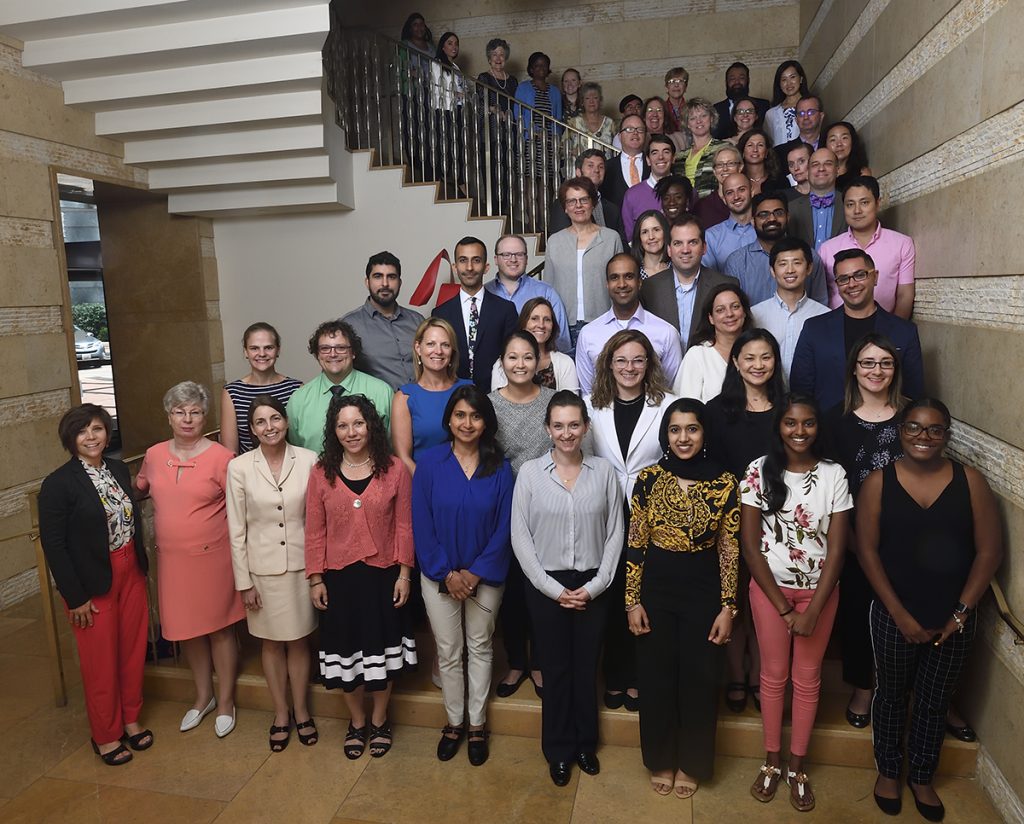 Biennial Conference a Success
More than 50 MEHP fellows, alumni, and faculty from around the world convened in Baltimore in July for the program's second biennial conference. Participants took advantage of professional networking time, workshops, career mentoring, field trips, and socializing, as well as the chance to present and hear novel research in health professions education.
"It was over-the-top successful," says MEHP Program Director Toni Ungaretti, PhD. "Everyone couldn't say enough about the opportunities they had to meet each other, to extend their understanding in research and leadership, to gain some research and technology skills, and to share their work with each other. Some made connections to pursue joint research projects."
David Kern, MD, MPH, professor emeritus at the Johns Hopkins University School of Medicine and the author of Curriculum Development for Medical Education: A Six-Step Approach, shared his experience in faculty development and support in a keynote address.
The next conference will be held in the summer of 2021.
Ungaretti Addresses New Medical School in Turkey
MEHP Program Director Toni Ungaretti, PhD, joined faculty at Biruni University in Istanbul in September for the opening ceremony of its English Medical School. Ungaretti discussed the new world of medical education and critical components needed for medical education today.
"Today's medical schools are being challenged to transform," Ungaretti told the audience. While they continue to prepare physicians to address the health needs of individuals, they also must prepare physicians to specialize and to address broader health equity issues across the globe, she noted.
MEHP alumnus Tarif Bakdash, MD, MHSc, FAAN (MEHP '17), is vice rector and director of the new school. Bakdash is a pediatric neurologist with expertise in epilepsy, movement disorders, and behavioral sleep disorders.
Jenkins Heads South Carolina Medical School
Marjorie Jenkins, MD (MEHP '15), MEHP's former capstone director, has been named dean of the University of South Carolina School of Medicine in Greenville, South Carolina, and chief academic officer for Prisma Health-Upstate. She previously held several roles at Texas Tech University Health Sciences Center in Lubbock, including director and chief scientific officer for the Laura W. Bush Institute for Women's Health, associate dean for women in health and science, and professor of internal medicine.
MEHP Alumni Join SEO Student Advisory Board
MEHP alumni Ryan Sheehy, PhD (MEHP '19), and Priyanka Dwivedi, MS (MEHP '18), will represent the MEHP program on the Seize Every Opportunity (SEO) Student Advisory Board. Sheehy is an assistant professor at Kansas City University of Medicine and Biosciences in Missouri. Dwivedi is administrative director for medical education in the Johns Hopkins University School of Medicine's Department of Anesthesiology and Critical Care Medicine.
Apply Now for Macy Faculty Scholars Program
The Josiah Macy Jr. Foundation is now accepting applications for the 2020 Macy Faculty Scholars Program, which aims to develop the next generation of national leaders in medical and nursing education. Scholars are midcareer nursing and medical school faculty who are committed to careers in health professional education, are innovators, and have shown promise as future leaders. Benefits of participating in the program include protected time to pursue a mentored educational project. For more information, read more.
Note: Because Johns Hopkins has a current Macy Faculty Scholar, faculty from the Johns Hopkins University School of Medicine and School of Nursing are not eligible for the 2020 program.