Steps to apply
Step 1: Request a transcript review from a JHU academic advisor.
Note: You will need to submit copies of your transcripts and complete the MEd for Teaching TeachingWell Transcript Review Request.
Step 2: Receive the results of your transcript review confirming your eligibility to apply.
Step 3: Complete the online application by March 15. As part of the application process, you must request all official transcripts from all higher education institutions where you have earned an undergraduate or graduate degree, regardless of submission of unofficial transcripts submitted as part of the pre-admission transcript review detailed in Step 1.
Step 4: Receive an invitation to participate in a virtual interview with the TeachingWell Faculty Selection Committee.
Step 5: Receive your admission decision letter.
Application Details
Master of Education for Teaching Professionals
Application Deadline:
March 15
Application Requirements:

Online application form
Resume/CV

Essay:
o How have your background and experiences prepared you to work with diverse groups of people? (400 words)
o How have you demonstrated a commitment to diversity, equity, and inclusiveness in your school, workplace, or community? Provide one or more specific examples. (400 words)
o Please share why you are committed to working with students through a program that consists of master's coursework and four years teaching in Baltimore City Schools. (200 words)
Two Letters of Recommendation
Official transcripts from all post-secondary institutions attended
Some qualified applicants may be invited to a virtual interview; an invitation will be sent after completion of the application.

Tuition and Fees
Tuition and fees are subject to change for ensuing academic years and will be updated on the School of Education website accordingly.
More Information
Phone
Office of Admissions
410-516-9797
Office of Admissions Toll-free
877-548-7631
Liesl McNeal, Sr. Academic Program Coordinator
443-927-0146
Email
Liesl McNeal, Sr. Academic Program Coordinator
Location
Johns Hopkins School of Education
2800 N. Charles Street
Baltimore, MD 21218
Hours
Monday to Friday
8:30 a.m. to 5:00 p.m. ET
What to Expect
Goals
Our program objectives converge around three compelling expectations.
First, candidates will be prepared to demonstrate expertise in content, curriculum, pedagogy, assessment, and technology to enhance student engagement and learning, including strategies to support students in processing emotions and managing attitudes and opinions.
Second, candidates will be prepared to serve as models for social justice and advocates for inclusivity and equity. This includes developing asset-oriented mindsets to reach all learners and applying culturally sustaining pedagogies.
Third, candidates will be prepared to recognize the importance of continuous learning informed by evidence from research, practice, and reflection, and further, to enact healthful professional practices and engage various stakeholders in a student's life to provide collaborative, holistic, personalized support.  
The program will be delivered following a cohort model, starting in the summer semester and spanning a full year through the following summer (four semesters in total).
Internship
Candidates will complete a year-long internship in partnership school sites, with coaching and mentoring support.
Certification
While the program meets the certification requirements for Maryland, the School of Education cannot guarantee that the coursework will meet state credentialing requirements outside of Maryland.
International Applicants
International students interested in applying to a program at the Johns Hopkins School of Education must follow the same application process and submit the same general application materials as their peers, along with some additional requirements.
International Student Admissions
Please visit the International Student Admissions webpage for additional application requirements or information.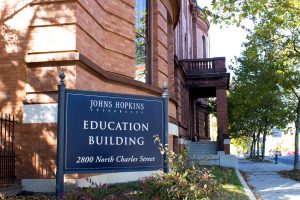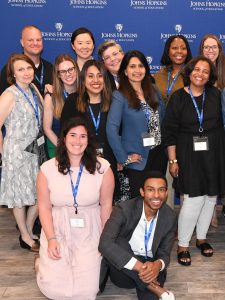 International Student Admissions
Please visit the International Student Admissions webpage for additional application requirements or information.