Application Details
Prerequisites to Apply
A bachelor's (four years) and master's degree from a regionally accredited college/university or an equivalent credential earned from a qualifying international institution. Previous degrees must document outstanding academic achievement in a relevant area of educational research. This program requires in-person residential study at the Johns Hopkins School of Education in Baltimore, Maryland.
Application Requirements and Deadlines
Doctor of Philosophy in Education (PhD)
Application Deadline:
December 15, 2023

All materials, including official transcripts and letters of recommendation, must be received by the Admissions Office on or before the December 15, 2023 deadline for full consideration. Please note that the application deadline represents the endpoint in the application process (i.e., completing your file) rather than the beginning of that process.
Application Requirements:
Online application form
$80.00 application fee
Resume/CV

Essay:
The Johns Hopkins School of Education provides rigorous training in impactful educational research.

Please write a brief personal statement (not to exceed 750 words) describing:
• What background/past experiences speak to your promise as an aspiring educational researcher?
• What research topic(s) are you most interested in pursuing (and with which faculty)? Why?
• In what ways do you anticipate this research training shaping your future career?
Writing sample: a sample of an applicant's most professional writing that demonstrates analytic and critical writing skills (average 10-20 pages).
Three Letters of Recommendation:
At least three letters of recommendation - two submitted by faculty members who are familiar with the student's previous academic work, and one submitted by a supervisor or administrator who has been in a position to evaluate the student's professional development.
Official GRE scores
Official transcripts from all post-secondary institutions attended
An interview may be required
Tuition and Fees
All PhD students at the School of Education are eligible for a fellowship for up to four years. The fellowship includes a yearly stipend and health insurance and will cover tuition and fees.
We recognize that it can be financially burdensome to relocate to a new city to attend a PhD program. Students admitted to PhD programs at Johns Hopkins can apply to potentially receive a $1,500 need-based grant to offset the costs of relocating. These grants provide funding to a portion of incoming students who, without this money, may otherwise not be able to afford to relocate to Baltimore for their PhD program. This is not a merit-based grant. Applications will be evaluated solely based on financial need. More information can be found on the Office of the Provost website.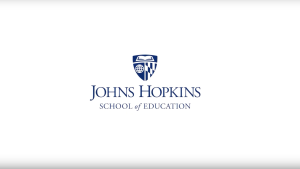 More Information
Phone
Office of Admissions
410-516-9797
Office of Admissions Toll-free
877-548-7631
Raven Minervino, Sr. Academic Program Administrator
443-927-0150
Email
Raven Minervino, Sr. Academic Program Administrator
Location
Johns Hopkins School of Education
2800 N. Charles Street
Baltimore, MD 21218
Hours
Monday to Friday
8:30 a.m. to 5:00 p.m. ET
What to Expect
Program Goals
Upon successful program completion, graduates will have the capacity to:
Translate disciplinary knowledge into multidisciplinary applications and solutions.
Draw upon a suite of cutting-edge research skills based on their personalized interests and needs,— including:

Employing sophisticated statistical and /data science approaches
Linking educational practices with student outcomes in complex databases,
Employing open science strategies,
Designing survey measures,
Conducting innovative program evaluations, and
Navigating research-practice partnerships.

Conduct and use evidence-based research to inform and assess educational policies and practices that improve outcomes for historically underserved populations.
International Applicants
International students interested in applying to a program at the Johns Hopkins School of Education must follow the same application process and submit the same general application materials as their peers, along with some additional requirements.
International Student Admissions
Please visit the International Student Admissions webpage for additional application requirements or information.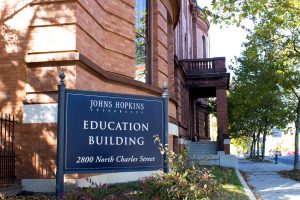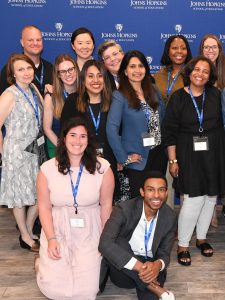 International Student Admissions
Please visit the International Student Admissions webpage for additional application requirements or information.