Application Details
Prerequisites to Apply
A bachelor's (four years) and master's degree (minimum 36 credits) with a 3.0 or higher GPA earned from a regionally accredited college/university or an equivalent credential earned from a qualifying international institution.
Students who have conferred a master's degree with less than 36 credits may be considered for admission but are required to complete the additional graduate credits at a regionally accredited college or university either before or during matriculation in the EdD program.
All applicants with master's degrees in-progress during the application review period are required, if admitted, to complete and confer their master's degree before the start of their first semester enrolled. Applicants who fail to submit a final official transcript with degree conferral before the start of the program will be administratively withdrawn from the program.
Application Requirements and Deadlines
Doctor of Education (EdD)
Application Deadline:
January 18, 2024

Please note that the application deadline represents the endpoint in the application process (i.e., completing your file) rather than the beginning of that process. All materials, including official transcripts and letters of recommendation, must be received by the Admissions Office on or before the January 18, 2024 deadline for full consideration.

Application Requirements:
Online application form
$80.00 application fee
Resume/CV
Personal Statement
(not to exceed 750 words) including responses to the following:
Describe a significant Problem of Practice relevant to your current context of professional practice.

Indicate the importance of this problem within the educational landscape as well as the applicant's context of professional practice.

Discuss the potential underlying causes for or contributing factors related to this problem of practice.

Discuss the ways in which this problem aligns with your chosen area of interest.

Two (2) Letters of Recommendation
Two letters of recommendations signed by the recommender. These letters should include at least one from each of the following:
(a) A professor with whom the applicant worked in his/her master's program who can speak to the applicant's competency to conduct rigorous scholarly work; and
(b) a school/organization official who can attest to the applicant's qualifications to pursue a doctorate, impact on his or her professional practice, and knowledge of and support for the applicant's area of research/Problem of Practice. This letter should indicate the school/organization official's understanding that the student will do research within his/her professional context. District support for the applicant's research within his or her context of professional practice is an important component of the admission process.
GRE Admissions Test (Optional)
Applicants to the Doctor of Education EdD (Online) program are strongly encouraged to submit GRE examination scores for the General Test as part of the admission application. While the GRE examination is not a requirement for admission consideration to the program, submitting a GRE test score is an opportunity for applicants to present additional evidence of the quantitative and verbal skills required for the doctoral-level study.

The Admissions Review Committee is committed to the practice of conducting holistic evaluations of all admission materials submitted as part of an applicant's file. The Committee does not use cut off scores or minimum suggested averages for GRE in the evaluation process, or to determine admission consideration.

Test Information and Ordering Instructions
The Educational Testing Service (ETS), the testing provider for GRE, generates computer-based score reports that are sent to Johns Hopkins School of Education electronically approximately 10 to 15 days after the test date. ETS stores tests for a five-year period. ETS will not send official score reports for GRE examinations after the five-year period. Applicants with expired GRE scores interested in submitting a GRE test score would need to retake the GRE- General Test.

The institutional code for Johns Hopkins School of Education is 5470. Please visit the ETS Test provider website for more information and ordering instructions. Once ETS has electronically sent your score report, and your application is submitted, receipt of your official test score will be shown as received/verified on your application.
Official transcripts from all post-secondary institutions attended
A virtual interview will be required of all applicants. An invitation will be sent after completion of the application.
Tuition and Fees
Tuition and fees are subject to change for ensuing academic years and will be updated on the School of Education website accordingly.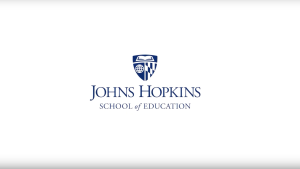 More Information
Phone
Office of Admissions
410-516-9797
Office of Admissions Toll-free
877-548-7631
Rachel Gibbons, Academic Program Coordinator
443-927-0155
Email
Rachel Gibbons, Academic Program Coordinator
Location
Johns Hopkins School of Education
2800 N. Charles Street
Baltimore, MD 21218
Hours
Monday to Friday
8:30 a.m. to 5:00 p.m. ET
What to Expect
Mission Statement
Exceptional education-practitioners will engage with an internationally renowned faculty to cultivate and practice curiosity, critical discourse, and perspective taking in a unique and rigorous course of study using the lenses of social justice, systems thinking, appropriate research methods, and empirical inquiry.
Student Outcomes
Upon successful completion of the EdD, we expect each graduate will:
Participate as a self-reflexive, social justice–-oriented learner within diverse educational or learning communities.
Analyze and critique educational practice and research from a social justice and systems perspective.
Apply relevant methodologies to address critical challenges in education.
Demonstrate a curiosity for, and a systematic approach to, at least one major topic of study within education resulting in an emerging expertise.
Integrate research and practice-based knowledge to develop research-informed decisions and opinions about educational experiences, processes, policies, and institutions.
Communicate effectively to diverse audiences about educational research, experiences, processes, policies, and institutions.
International Applicants
This program is delivered in a fully online format and does not offer F-1 or J-1 visa sponsorship for international students. If you're an international student interested in applying to a program at the Johns Hopkins School of Education, you must follow the same application process and submit the same general application materials as your peers, along with some additional requirements.
International Student Admissions
Please visit the International Student Admissions webpage for additional application requirements or information.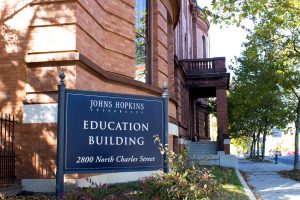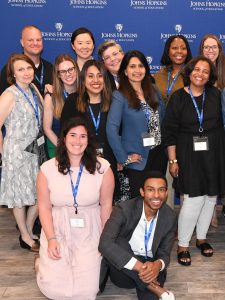 International Student Admissions
Please visit the International Student Admissions webpage for additional application requirements or information.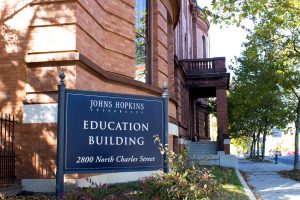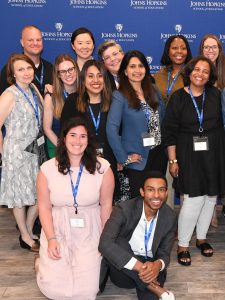 Legal Disclosure
State-Specific Information for Online Students