The Johns Hopkins Institute for Education Policy partners with state, district, and school leaders to analyze English language arts curricula utilizing our ELA Knowledge Map™.
This tool analyzes an ELA curriculum in terms of the knowledge it offers students about the world and the human condition. We conduct this analysis by "mapping" the knowledge domains implicit in the selected texts, showing both strengths and omissions across the K-12 curriculum. The results provide compelling, actionable data used to adopt or amend classroom materials.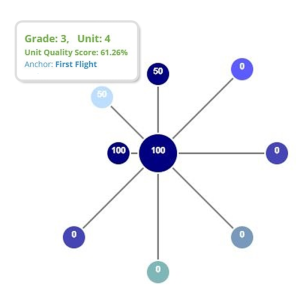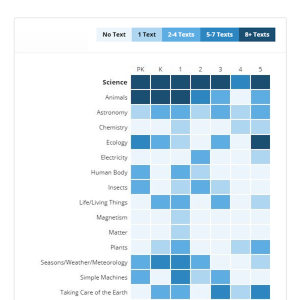 The English Language Arts "Knowledge Gap"
Research shows that students' reading levels — especially from fifth grade onwards — are linked to their background knowledge about specific subjects. More affluent students succeed on skills-based ELA assessments, not because they are better at "finding the main idea," but because they are far more likely to know more about the subject matter discussed. To put it simply, knowledge matters, and research compels us to focus on addressing the "knowledge gap" if we want to close persistent achievement gaps among American students. 
ELA Knowledge Map™ Database
The institute and our key partner, Chiefs for Change, created a database to curate the findings and report cross-sections of data by text, grade level, and knowledge domain. This resource allows new insights into the knowledge domains and topics that students are exploring in classrooms across the country.
Recent Analysis
On February 22, 2022, IEP released ELA Knowledge Map™ analyses of 12 widely used curricula and a findings brief. The ELA Knowledge Map™ Findings Brief provides a high-level overview of each analysis. Notably, while there is a single Knowledge Map methodology, the 12 curricula themselves differ in important ways. Details and recommendations are available in each of the full reports.
ELA Knowledge Map™ Webinar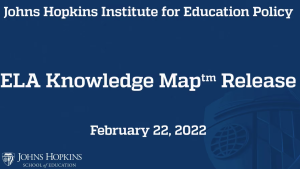 To learn more about the project, please read Introduction to the Knowledge Map Project and review the sample report.
The ELA Knowledge Map™ was developed through support from Chiefs for Change, a bipartisan network of education leaders. Chiefs for Change cannot and does not endorse, recommend, or make any other representations about the ELA Knowledge Map™, its underlying research or findings, or its use by schools, school districts, states, or any other entities. Chiefs for Change believes strongly in the importance of high-quality instructional materials in preparing students for college, meaningful careers, and life. To learn more about Chiefs for Change, please visit chiefsforchange.org.