Teachers are the single most important in-school determinant of students' success, and the curricular materials teachers use shape what and how they teach.
Research shows that using a strong curriculum with fidelity causes significant increases in student learning; however, research also shows that few teachers use their district's curriculum frequently or faithfully. A better understanding of what teachers are using in the classroom has the potential to stem or reverse learning loss and to positively impact student outcomes. 
For this reason, the Johns Hopkins Institute for Education Policy designed and deploys a survey that creates a detailed picture of teachers' use and satisfaction with curriculum materials.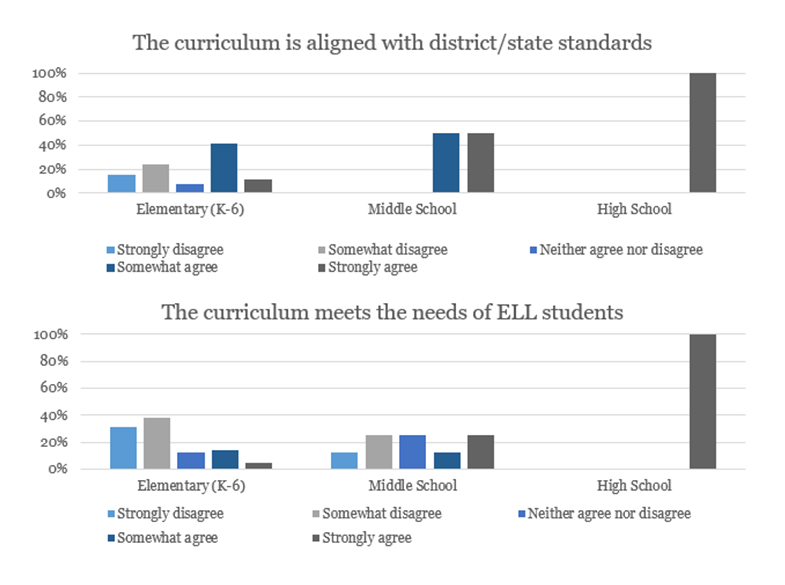 With detailed questions about a variety of curricular materials, our survey provides robust information about specifics including the degree to which teachers are using the district-supplied curriculum and for what purposes, sources of supplemental materials teachers utilize, the rigor of instruction, and the extent to which teachers have access to meaningful learning opportunities. The survey takes approximately 15 minutes to complete and can be administered to a single school or an entire system of schools. 
The survey questions address: 
Which curricular materials do teachers use to plan lessons?

How do teachers use published curricular materials?

What do teachers think of the published curricular materials they use?

How does teachers' use of online resources vary depending on which instructional materials they use? 
Survey results come in a comprehensive report with a searchable database, providing school and system leaders with accurate, actionable data about classroom instruction. Many states and districts have used the survey and found it to be a powerful tool in illuminating teachers' instructional practices and their opinions of the current instructional materials used. 
Sample of Findings from a Teacher Survey Report
The following data from an actual survey report are in response to the question: How do teachers use their curricular materials? 
Among the teachers who use district-created materials, 76 percent report using these materials for lesson objectives most or all of the time (Figure 1A below). In contrast, 39 percent of these teachers report using district-created materials "as a source of practice for students to complete for homework" with the same frequency (Figure 1B below).