Application Details
Prerequisites to Apply
Applicants are required to hold a current teacher certification to be admitted to the program, have at least three years of teaching experience, and be currently employed in a school district or an accredited independent school, preferably working with or with access to gifted or advanced learners. In addition, applicants who are seeking the Maryland State Department of Education (MSDE) Gifted and Talented Education Specialist certification must also hold a master's degree. 
Application Requirements and Deadlines
Graduate Certificate – Gifted Education
Application Deadline:
Rolling – Applications will be accepted until one month before the start of the semester.

Completed applications received after the posted deadline will be reviewed based on program space availability.
Application Requirements:

Online application form
$80.00 application fee
Resume/CV

Essay: A 500-word essay discussing the reasons you wish to pursue a degree at Johns Hopkins University, focusing on your long-term goals and how your academic program will complement those goals. Discuss the strengths and weaknesses in your academic background, as well as any additional comments that will assist in evaluating your application materials. Essays should be submitted in a typed format on a separate sheet of paper.
Two letters of recommendation
Official transcripts from all post-secondary institutions attended
Tuition and Fees
Tuition and fees are subject to change for ensuing academic years and will be updated on the School of Education website accordingly.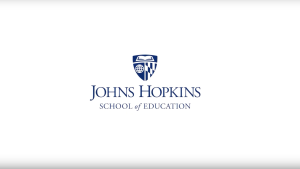 More Information
Phone
Office of Admissions
410-516-9797
Office of Admissions Toll-free
877-548-7631
Jennifer Fordham, Sr. Academic Program Coordinator
443-927-0154
Email
Jennifer Fordham, Sr. Academic Program Coordinator
Location
Johns Hopkins School of Education
2800 N. Charles Street
Baltimore, MD 21218
Hours
Monday to Friday
8:30 a.m. to 5:00 p.m. ET
What to Expect
Goals
The objectives of the program are to prepare students educators who are able to:
Understand the different factors that inform the identification and support of K–12 gifted students

Create safe, inclusive, and culturally responsive learning environments that support the social, emotional, and cognitive learning needs of diverse groups of gifted K–12 students

Use assessments to identify gifted and talented students, measure their progress, modify interventions accordingly, and provide summative data on their growth

Be reflective, ethical professionals who support and advocate for gifted K–12 students through collaboration with families and colleagues, use of community resources, and ongoing professional learning
International Applicants
This program is delivered in a fully online format and does not offer F-1 or J-1 visa sponsorship for international students. International students interested in applying to a program at the Johns Hopkins School of Education must follow the same application process and submit the same general application materials as their peers, along with some additional requirements.
International Student Admissions
Please visit the International Student Admissions webpage for additional application requirements or information.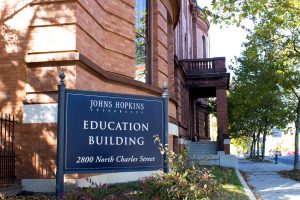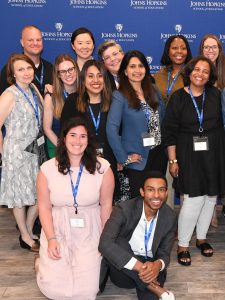 International Student Admissions
Please visit the International Student Admissions webpage for additional application requirements or information.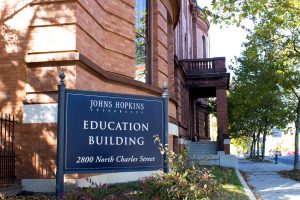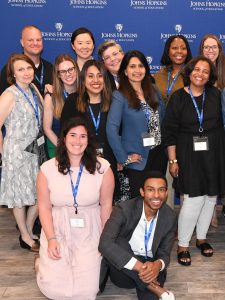 Legal Disclosure
State Authorization Disclosure Regarding Educational Prerequisites
Federal regulations require Johns Hopkins to disclose to students considering enrollment or enrolled in this program whether or not it meets educational prerequisites for licensure or certification by state.
Program meets licensure requirements in the following states: Maryland. Maryland has a licensure agreement that provides for reciprocity with Alaska, Arizona, Arkansas, California, District of Columbia, Florida, Hawaii, Louisiana, Maine, Michigan, Minnesota, Mississippi, Missouri, New Hampshire, New Jersey, New Mexico, North Dakota, Oklahoma, Rhode Island, South Carolina, Tennessee, Vermont, and West Virginia. The licensure agreement provides for reciprocity with conditions in the following states: Colorado, Delaware, Idaho, Indiana, Nevada, North Carolina, Wyoming, Wisconsin, Virginia, Alabama, Connecticut, Georgia, Illinois, Iowa, Kansas, Kentucky, Massachusetts, Montana, Nebraska, New York, Ohio, Oregon, Pennsylvania, South Dakota, Texas, Utah, and Washington.
*Meets requirements, but students must also have a master's degree and 27 months of experience.